There seems to be a bit of confusion as to the ethnicity of Christ, not that this really has anything to do with how we view Him. For the most part, I believe that most people view him as a white European.
Unfortunately this is false.. We have to remember that the Bible is a
middle eastern
book. It's not western thought. Europeans, until the time of Christ, basically worshiped gods like the Norse gods, or the Druids, or the Greek or Roman gods such as Apollo or Zeus.
In fact, I would say that Jesus had more of a black influence than he ever did a white influence. Please read the following.
At this point we are now in a position to further appreciate the Black ancestry of Christ. This information is anchored in the genealogical table of Matthew, and, in this particular approach, and to the surprise of some, it concerns no less that three of the four women who are noted as being ancestors of the Lord!

The first woman is mentioned in Matthew 1:3 and is named Tamar. The story of Tamar can be found in Genesis 38. Tamar was known te be a Canaanite woman by virtue of her implied identification as a Canaanites,189 and where she dwelt, in a city called Timnath. Timnath was in the vicinity of Adullam, a known Canaanite town (d. 38:1, 2, 6,11,13). Tamar became an ancestor of Christ Jesus through a child she mothered by her own father-in-law Judah. The child's name was Perez (Matthew 1:3).

The second woman is mentioned in Matthew 1:5 and is named Rahab. The story of Rahab is found in Joshua 2:1-21 and 6:17-25. Rahab was known to be a Canaanite, an inhabitant of the city of Jericho. She was the prostitute who helped the two Israelite spies when they surveyed the land of Canaan. As a result of her actions of faith, the lives of Rahab and her household were spared during the Israelite conquest of Jericho (cf. Hebrews 11:31; James 2:25). It was an ancestor of Christ Jesus named Boaz who was in fact the son of Rahab the Canaanite (Matthew 1:5).

The third woman who was a Black ancestor of Christ Jesus is mentioned in Matthew 1:6 as the "wife of Uriah," Bathsheba by name. The story of Bathsheba is recorded in 2 Samuel 11. Most know the story of "David and Bathsheba." What is often overlooked is the fact that Bathsheba was married to Uriah the Hittite. It is widely known and accepted that the Hittites were a Hamitic people. They descended from Heth, a son of Canaan (Genesis 10:15; 23:10).190 If in fact Bathsheba shared the same ethnic origin as her husband (a not improbable assumption), then the child born to her and David, Solomon by name, did indeed have Black ancestry in his veins. Solomon was an ancestor of Christ Jesus (Matthew 1:6).

Immediately the objection may be raised: But Joseph, whose genealogy is recorded in Matthew's Gospel, had nothing to do with the birth of Jesus, for Jesus was miraculously conceived and born to a woman who was a virgin. Joseph's seed had nothing to do with the humanity of Jesus. Thus, any reference to Black African blood in the genealogical line of Jesus through Joseph is invalid!

Such an objection would be devastating to our argument, save for one bit of enlightening information. It is virtually without disagreement among biblical scholars that Mary as well as Joseph was "of the house of David" (Luke 1:27; cf. Luke 2:4). This blood relation of Mary to her forefather King David is corroborated by other Scripture (see Luke 1:32, 69; Matthew 9:27; 15:22; 20:30, 31; Mark 10:47, 48).

That Mary, as the woman who physically mothered Christ, was of David's line is foreshadowed in the prophecies that the promised Messiah was to be the very offspring of David as well as successor to the Davidian throne (cf. 2 Samuel 7:12ff.; 1 Kings 8:25-26; Isaiah 7:2, 13-14; 9:7; Jeremiah 23:5; 33:15, 17, 22, 25-26; John 7:42; Mark 11:10). The Apostle Paul wrote that "Jesus Christ ... descended from David" (2 Timothy 2:8), and furthermore states that Jesus Christ "was descended from David according to the flesh" (Romans 1:3)."

Indeed, according to His own testimony, Christ Jesus Himself is both "the root and the offspring of David" (Revelation 22:15).

Now inasmuch as the references to women of Hamitic descent impact upon the "house of David," Jesus' lineage is so affected by virtue of Mary His mother. This is true in both the cases of Tamar and Rahab, for they preceded David and his house. Further, it may not be unreasonable to assume that Mary's bloodline may also have been influenced through Solomon, f 'son of Bathsheba and David. The fact that Luke's Gospel carries a heightened emphasis on the very physical descent of Christ gives an added strength to this argument.

So here we have it, Tamar, Rahab, and Bathsheba - each of Hamitic descent, each a lineal ancestor of Christ Jesus according to reliable genealogical information of Matthew's and Luke's Gospels. Ontologically and genealogically speaking, then, Jesus is Black, for "Black" ancestral blood ran in His human veins.

Such truth concerning the racial/ethnic identity of Jesus is liberating to many of us, despite the fact that racial relationship to Christ may serve for Black people only as a cordial invitation to Christ. It continues to stand that each person, of whatever racial-ethnic origin, must personally come to the Lord for salvation, regardless of a kinship relationship to Christ Jesus. Faith in the atoning death of Christ is the way to redemption from sin and to wholistic liberation; not a claim on physical/kindred relationship to Christ. - The Black Presence in the Bible by Rev. Walter McCray.
Not that this really matters... I believe he looked more like this..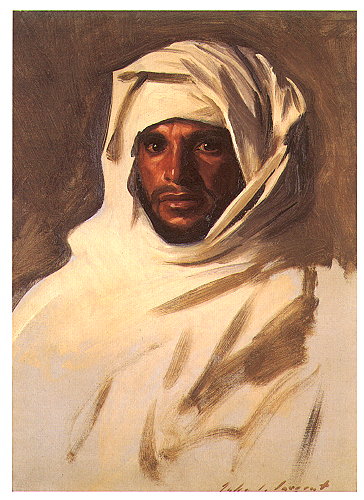 Brown eyes, brown skin, black hair... A real middle eastern kind of guy. And when you really think about it, if we were to mix all the nations into one color, we would probably come up with something like this!!